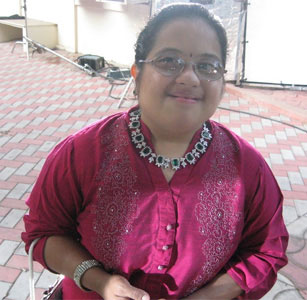 She is a person with Down syndrome born ian 1981. She underwent four major eye surgeries and despite vision and being mentally, and physically challenged she coped with all this, and was also able to be "near far" and would like to be equal to her peers. Then came the break – Babli found that dance was her forte – she started using dance and drama as her medium of expression and this made her more confident. She used mudras and facial expression of Bharatnatyam to express pain, joy anger or love.
Babli was so close to her dance that she started emoting in her sleep, while eating while bathing and through out the day and night. Sometimes she gets up with the feeling that she is not being PERFECT and that her body is not getting the right posture.
Her joy of being appreciated or her fear of not being up to the mark makes her no different from other children who are considered normal. She has been greatly motivated by great dancers and we hope Babli always remains "a Bundle of joy" as she has been.