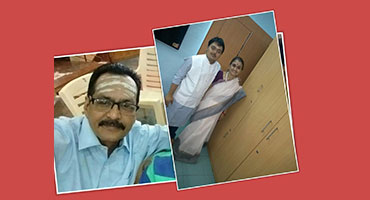 Keeping the Faith – S. Ramnath
Born on 20th of March 1996, Ramnath was destined to be a special person to everyone around him. He was born just a day before World Down Syndrome Day and as a person with Down syndrome, he never let anything come in the way of his journey towards success.
When his parents came to know that their child was a person with Down syndrome the father was devastated. He had high dreams for his child. He wanted his son to be a great sportsperson, a millionaire or some self-made individual. However his hopes were shattered. Then they decided to find out more and that was when both he and his wife found out about the Federation. They got in touch with Dr. Surekha Ramachandran, President – DSFI and found the one thing missing from their Life – HOPE. Her words of encouragement spurred the Subramanians on to make sure their child was given the opportunity that every child gets – nothing to be denied just because he was a person with Down syndrome. Mr. Subramanian goes on to call Dr. Ramachandran the "Mother of all mothers".
Another very important aspect that helps Ramnath succeed is the support he receives from his family members. Mr. Subramanian's brothers and their families as well as his parents have been there for them from the beginning. A family that stays together, helps a child with any need grow stronger and more successful. And Mr. Subramanian believes that his brothers and their family have been one of the biggest source of strength for them.
Ram's Achievement.
Ram was a good student and an exemplary son who was willing to support his parents in their endeavor to help him lead a normal life. His achievements were stuff of dreams.
1. He stood school first in the 10th Standard scoring 93%. He went to a regular school.
2. 12th Standard. 84 percent
3. He did his Bachelors in Business Administration from Madras University and secured a First Class.
4. After the Corona crisis he will be learning. MS Word and MS Excel
5. He is an Agent for HDFC Limited and canvasses for deposits. Out of the small brokerage income he earns, he keeps half and donates the rest to the needy.
6. He studied and competed with other normal students only and never considered himself in any way less competent than them. Today his proud parents and a prouder Down syndrome community look up to him with hope for children with Down syndrome who till now were believed to be less proficient that their typical peers. Our children can do it. All they need is the support of parents and society and Faith in them, from all those who are close to them.
His articles have been published in numerous newspapers that include The Hindu, Times of India, Deccan Chronicle and various regional publications.