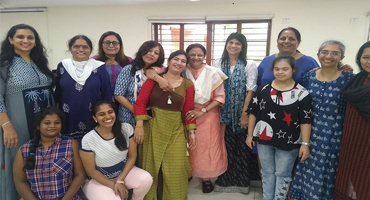 Health Camp at Ahmedabad
Down Syndrome Welfare Club, Gujarat and Down Syndrome Federation of India, Chennai, jointly held a Down Syndrome management Camp at Sadvichar Parivar, Satellite Road, Ahmedabad.
A total of 65 families had come from all over Gujarat, with kids ranging in age from two months to 32 years. Over a period of 2 days they could meet and consult some of the best specialists in the management of Down Syndrome in India. The team of experts included DSFI president Dr Sulekha Ramachandran and her experienced team of physiotherapists & special educators and the Down Syndrome Welfare Club experts Dr Nina Vaidya paediatrician, special educator and Counselor, Dr Krati Shah, clinical geneticist and Ms Iti Shukla clinical psychologist.
The event was a tremendous success with parents receiving guidance from the experts and benefiting from interacting with the senior parents and among themselves.
I'm thankful to all the members Dr. Rekhama, Dr. Nina ma'am, Pariniben, Minalben, Miraben, Ankitaben, Vaishaliben, Dr. Krati ma'am, Dr. Mithula ma'am and other parents also, who share their experience and guide us for our lovely child.I also share all the things with my family and all got very happy.Response from all is great.Thanks for the support and help.Thanks and Regards. Jiyan's parents.

Ajay Dhandhukiya
Dear All, I am father of Shreedhar, for me and his mother, this was a first of its kind of experience to meet so many families and experienced doctors and educators.The simple tips that were shared are so useful that am sure Shreedhar will benefit a lot.The efforts and arrangements down by Vaishali Madam and team were phenomenal.

Thank you for the opportunity for meeting you all and having a useful session

Kunal Bhatt, Mumbai:
Thank you so much ma'am to give us this platform to know about our own kids to meet so many parents who endeavour to not give up. This is one more message which salutes your unconditional efforts and all those who were volunteers and had been working to make this day possible for us. My family looks forward for more such associations and I am sure the learning like this day would be enormous.

Parents of Angelina

Shilmani Samuel:
The DSFI team has been going from place to place to help persons with Down syndrome. They organize camps that help parents understand their children better and take steps to help their children perform better. The next camp is being organized at Ahmedabad on the 18th and 19th of August 2018.
Please find below the details. More details will be shared shortly.
This is to inform all parents of persons with Down Syndrome that Dr Rekha Ramachandran and her team of experts are scheduled to visit Ahmedabad on 18 & 19th August, 2018 Dr Rekha Ramachandran fondly called Rekha maa, is the president of DSFI, and a senior parent. She and her team and Dr Nina Vaidya, senior parent and paediatrician, will be addressing issues related to fine and gross motor skills, speech, reading, writing, social, sports, nutrition, parental stress, medical issues etc on a one-to-one basis.
A maximum of 40 children, 10 years and below will be accommodated on 18th, Saturday and a maximum of 40 persons above the age of 10 years will be evaluated on 19th, Sunday.Venue is yet to be finalized
Prior registration is mandatory and at no cost.
For registration:
The prerequisite for registration is that the child should have medical reports up-to-date, which includes …
Cardiac Evaluation – Echo, whenever done till date
Hearing evaluation – BERA , if done last report. If more than 7 yrs of age, audiometry report, preferably done in last 2 years.
Eye check – to be done by ophthalmologist anytime in last 9 months
CBC – if done in last 6 months please get reports, otherwise to be done
Thyroid evaluation – TSH, free T3, free T4, TPO antibodies
Karyotype
For registration kindly contact
Ms Parini Delhiwala
+91 99255 64948