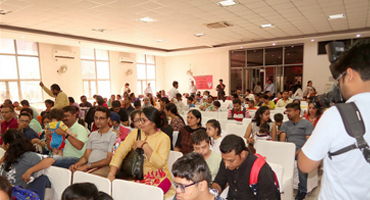 Health Camp at Delhi
With smiling and excited faces of more than 80 kids Down Syndrome Parents Society (DSPS) – Delhi a chapter of Down Syndrome Federation of India (DSFI), for the first time in Delhi/NCR organised a Health Camp for the Persons with Down syndrome. Over 100 children were registered for this health camp out of which more than 85% could actually turn up; making it a huge success for the 'First Timers'.
A team of specialists consisting of Pediatricians, Endocrinologists from IAP, ENTs, Dentists, Occupational Therapists, Speech Therapists and Special Educators participated in this event. Parents were able to discuss any and all discussed. Everyone was excited, happy to meet their extended family members. Even the volunteers loved the warmth of the little power houses – 'Our Kids'
The atmosphere turned into a celebration once the Hon'ble Minister of State, Dr. Mahesh Sharma, who was celebrating his 60th birthday, graced the occasion by spending quality time with the special children. He also announced that Down syndrome clinics will be operating in the Kailash Hospital. He mentioned that IMA & IAP will be supporting many more such camps in future. Also, present for the occasion were Dr. Arvind Garg president of IMA and Mr. Vishnu Kartik, CEO – Xperiential Learning Systems and Associate Director – The Heritage Schools, Ms. Nita Choudhary, Member of Central Administrative Tribunal Principal Bench, Mrs. Surekha Ramachandran, Founder and Chairperson – DSFI, Mrs. Rashmi Anil Joshi, President – DSPS
Wao..wao..wao.It was gr8 well planned Program..n a big thanx to the whole team of this event..I m feeling greatful to b a part of this event..indeed lots of hard work is there behind the stage. Salute to all the members who were involved in it

Sonia Midha (Parent):
I reciprocate same feeling s …. really thankful to whole team .With more heartly wishes to Rekha Ma,Deepti n Ranjan Ji ….it was big help …n faultless program… please continue making such efforts.

Kamna Sharma (Parent):
I would thank all the organizers from the bottom of my heart. Conducting such an event is a herculean task, but it was done with absolute perfection. Not only it was beneficial in medical sense but also extremely informative. The best part was to network with so many different parents to share their experiences. Thank to all. Kindly keep arranging such events in future.

Subhomita Mukherjee (Parent):
This really warms my heart. The event was really nice. I'd rather be nowhere else. This was really the best.

Monisha Damera (Volunteer):
It was a pleasure being part of this event. Please let me know if any help is needed in future as well.

Dr. Ravi Gupta (Doctor):
A resounding success
The Health Camp organized at IMA House in Noida by the Down Syndrome Parents Society under the aegis of the Down Syndrome Federation of India was the first of its kind in Delhi where parents got to speak to doctors and get issues addressed by them. Almost a 100 children were present and specialists ranging from pediatricians to speech therapists were available to answer queries. Since all parents had been asked to get the test results of their children as well as their x-rays and other medical records, it was smooth sailing for everyone. The event was well organized by the Delhi team.
The event was inaugurated by the Honorable Ministry of Culture, Minister of State in the Ministry of Environment, Forest and Climate Change – Dr. Mahesh Sharma. It was his birthday and he celebrated it with our children
This event was so well appreciated that people from other parts of the country want the Federation to organize events in their states and cities to assist parents in those areas
Here are some pictures from the event.