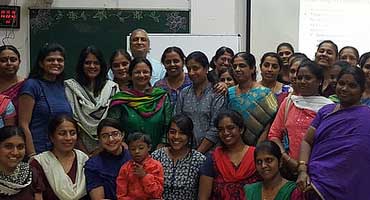 Health Camp at Bangalore
The next health camp at Bangalore was organized on the 22 of December 2018. This camp was a follow up one from the previous one. Parents came along with their children and wanted to know about the progress of their wards. Not only that, they also learnt about the next step that was to be taken for their children as they progress.
Many parents were thankful for the camp becayse this helped them groom their children for their future. This is what parents had to say about the camp:
A person who genuinely helps others without any reason and gives without any expectations .This is what defines the President of DSFI – Dr Rekha Ramachandran . It gives me immense pleasure to share that Dr Rekha Ramachandran & team of experts from Chennai , Leading Doctors from Bangalore including Dr Prakash Vemgal , Dr Pramila Naidu & Mrs Hiral Divyansh, Mr Kannan Hariharan ( senior parent & counsellor ) jointly conducted a complete health check up for 30 children with Down Syndrome on the 22nd Dec .Its a blessing for me once again to be the part of the guidance & organising team . I sincerely thank Mr.Chandrashekhar Raju( MD of Chancery Hotel ) ,Mrs Simi Korah , Mr Pradeep Korah for sponsoring the event & being such a strong support always. Last but not the least , heartfelt thanks to everyone from the Bangalore Humsafar group for your active participation .Its only because of your presence the camp was such a huge success Salute to all the members who were involved in it

Tejal Vikas Shah
I am thankful to the organisers , Rekha maa ,Sandhya mam and the Chennai team for providing a platform for the health camp. Also thankful to the occupations therapist Hiral and dentist Dr.Premila for providing their valuable time for this cause. Also a big thanks to Kannan's who were managing the events in an organised way. And a big thanks to Simi for providing the Chancery space.
Echo to Madam , thanks a lot for all your guidance and support humsafar family today session was full of learning for us

Parents of Angelina
Awsm meeting today. It is very nice experience to meet all.. Luv to b part of wonderful family.Special thanks to rekha maa, I always eager to meet her, sandhya mam for tips, the organisers, all team members fo4 best coordination. Looking forward for more meetings.

Parents of Angelina
Thanks a lot Rekha mam and whole team.. Thanks Kannan Sir and Simi for organizing the event… Its always exciting to meet you all…One on one sessions from all our specialists are really helpful…
Thankyou doctors, therapists..special educators, organisers and all the parents and kids..It was lovely meeting you all after a long gap…Looks like we are meeting only when the Chennai team comes here.. I really wish we get this response for our get togethers too…
Thank you all the thearpist and the Organizers for organising the health camp. It was really helpful. Though Sania is 17 yrs now but I still learnt many things. And most of all big thank you to Rekha maam you are really a big support to all of us … 🙏🏻
My first camp was so gud n i meet many gud hearted persons ….new experience thank u to all in humsafar camp meet today …all guiedence was so awesome…really our kids r gifted to have team n parents like us…thank you☺🙏🏻