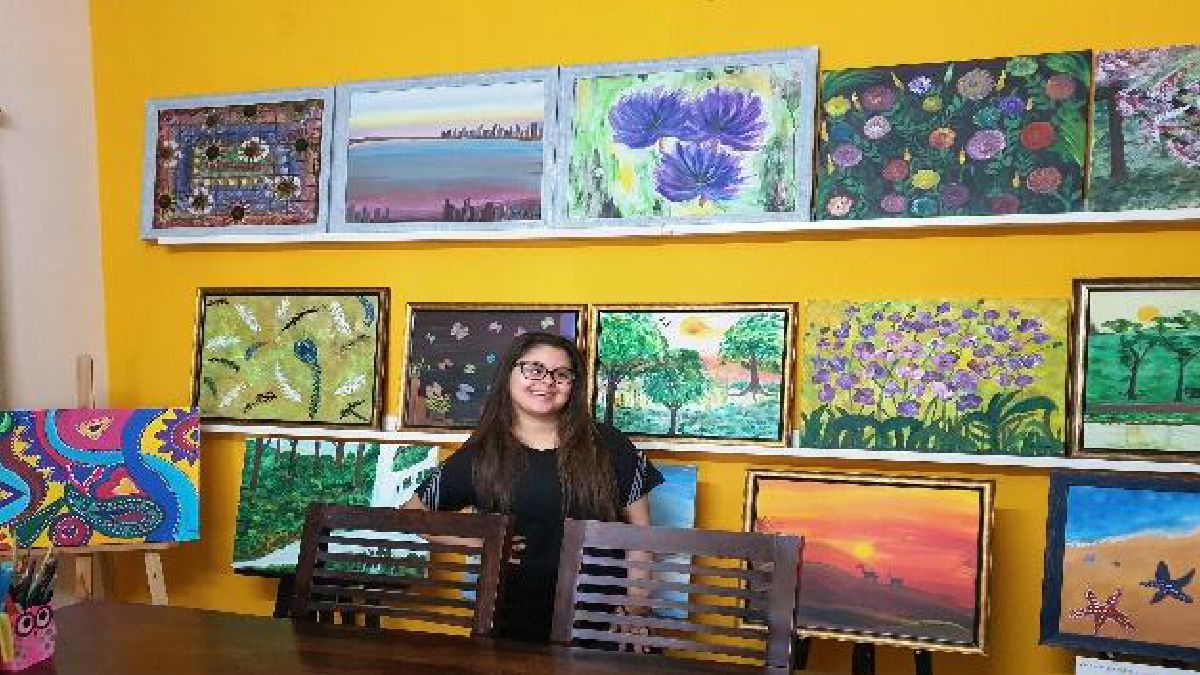 Amazing Advocate #20 – Karishma Kannan
Karishma's Story – When the world says "give up", hope whispers, "Try it one more time", and then I realize, Yes, I Can!
Karishma' s work of art is a triumph in the face of overwhelming odds. Her every stroke of brush in creating her paintings is a great achievement and it means so much as it is hard won, for Karishma is a intellectually challenged girl born with a condition called downs syndrome.
Karishma Kannan – born in 1991 in India, underwent early intervention at Mathru Mandir, Chennai and developed early learning skills at Srishti Special Academy, Bangalore. She later trained in pre-vocation and Creative Movement Therapy at RASA, Chennai. She was also part of Sakthi Foundation, Chennai participating in their annual events. She performed number of dance drama, staged programs and felicitated celebrities. In 2008, Karishma relocated to Ho Chi Minh City, Vietnam with her family where she learnt to paint and developed the skill. After returning from Vietnam in 2015, Karishma lived in Mumbai for 2 years during which she participated in Shiamak Dawar's dance school and performed on stage. She is a certified yoga teacher from the J-Yoga college of Japan. She also taught yoga for special children. She has now relocated to Bangalore with her family and has set up her own Art Studio and a recreation centre for young adults with down syndrome called, Studio 21 UP.
Karishma's journey as the contributing member of the society began in 2011 with her first solo painting exhibition titled – 'I Can, You Can, We Can'. Since then she has had 4 solo exhibitions and one auction, in India and Vietnam and has donated over 160 paintings ! Her exhibitions and auctions has raised over 125, 000 USD for charities supporting infant heart surgeries and special education in Vietnam and India. Karishma has keen interest in Dancing and Fitness and regularly practices the same.
Karishma is now a self-advocate. Karishma' s work has been recognised and appreciated internationally. Besides extensively covered by print and TV media in India & Vietnam, her early years talent were widely published in Indian media. Her yoga sessions for young children was featured in the Niki magazine, Japan. In the words of The Consulate General of India in Vietnam – "I must say she is a great diplomat and a great representative for India in Vietnam".
Karishma is also the recipient of the 'World Downs Syndrome International Award' 2014 in the World Downs Syndrome Congress and again in 2018 she received the self-advocacy award from Down Syndrome Federation of India
Karishma has modelled for a prestigious jeweller CKC & Sons in Bangalore and walked the ramp for the Karnataka Women Achievers Award Event. Karishma Participated in India's largest fashion show organised by Aasmaan foundation. She is also the recipient of the 2019 Karnataka Women Achievers Award.
Karishma was a speaker at the UN in Geneva on the 21st March 2019 on the occasion of the World Down Syndrome Day. She was invited (along with her sister Kajol) by the Permanent Mission of India to the United Nations and The Asia Pacific Down Syndrome Federation.
Karishma continues to inspire one and all…To know more about Karishma, visit – www.karishmakannan.com