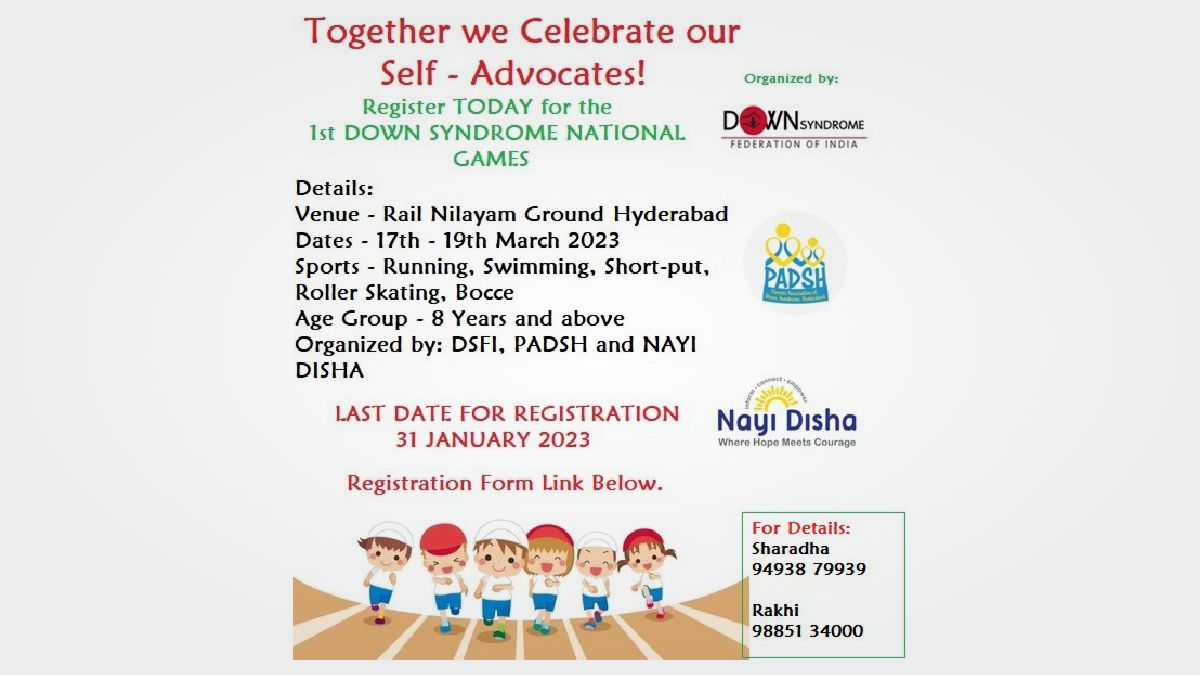 Down Syndrome National Games
Have you registered for the 1st Down Syndrome National Games at Hyderabad, Telengana yet? Do so right away. Please note: Only 1 Parent Per Self-advocate will be allowed for the games. * Please make the *Registration payment of Rs.300/- per participant, Gpay to Ms. Rakhi Srimal – 98851 34000
Click on – https://forms.gle/brLiRMJRcgRy1TCA7 to REGISTER NOW!
Aim
Persons with Down syndrome also need to have physical activities to keep them fit, like every one of us. Many of them have proved themselves in the National and International arena by participating in Special Olympics and other such events. However, not many are aware of these opportunities and they lose out to other disabilities. Down Syndrome Federation of India decided to start the Down Syndrome National Games to promote persons with Down syndrome who can perform well in various sports fields as we believe this is one of the best ways to ensure a better life for them..
Purpose of this Event
To reach out to a larger population of Persons with Down syndrome and initiate them into sports to enable them to lead better lives and enhance their confidence.
To better educate the public in India about the possibilities and potential of persons with Down syndrome in the field of sports
To facilitate opportunities for persons with Down syndrome in the area of Sports and Games and give them exposure to the competitive world of sports.
To try to bring to the mainstream individuals with Down syndrome in India in the field of sports.
To empower persons with Down syndrome to become effective self-advocates who can showcase their abilities, boost their morale and help them move to the next level in the field.
To advocate for Persons with Down syndrome to have access to high quality sports services.
The support we receive from society will help determine the standing of our self-advocates in society.
For this event, DSFI is ably supported by PADSH, the Down syndrome Parent Society at Hyderabad and Nayi Disha.